Edgers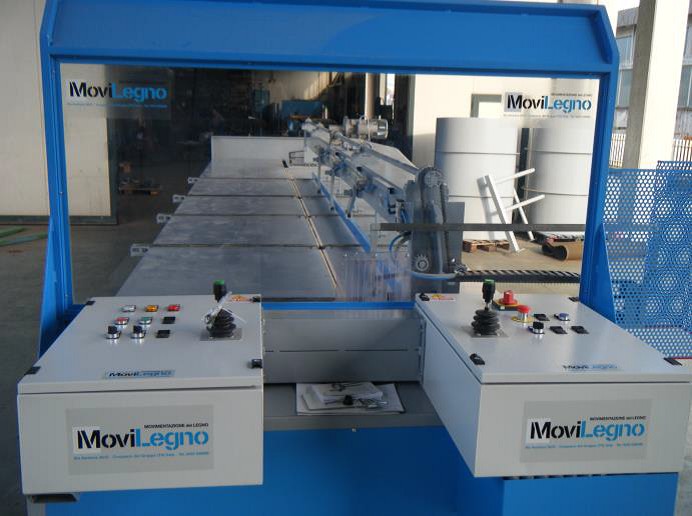 Technical characteristics :
Single blade edger suitable for longitudinal cut;
Heavy duty bench made of welded steel;
Blade diameter up to 600 mm;
Max. cutting height 150 mm;
All main cutting operations (power assisted control up to 50 m/min, automatic back drive 80m/min), punch control, boards transfer and stop and pressure rollers positioning are controlled by 2 Joystick with power assisted speed adjustment push-button (Pull the joystick to increase speed).
During the back run the retractable blade goes under the bench for a faster work cycle (production increase up to 30%);
Cable-carrier chain with wear-resistant cables (top class components);
5 loading and 5 unloading chains controlled by two levers;
Pneumatic punch for a faster board alignment on the cutting line;
Overall width 2000 mm (stop 2600);
Overall length 8900 mm;
Cutting work clearance 5200 mm (6200-4200 mm also available);
Work height 1400 mm;
Total height 2500 mm;
Blade holder truck sliding on guides for blade back run;
Guide rails made of hardened steel fixed on the milled bench;
Slide on ball bearings lubricated guides (long lasting life time). It is adjustable to allow the automatic stop for shorter boards;
Standard blade motor 25 HP_18.5 kW, lever control (Motor power available: 20 HP_15 kW or 30HP_22 kW in this case dimensions change);
End stop adjustable by means of a joystick. Power assisted adjustment up to 30m/min;
Cutting net clearance 5200 mm (6200 and 4200 also available);
Pneumatic pressure rollers for board clamping;
Bridge structure made of reinforced tubular material;
Installation on hardened steel guide rails sliding on ball bearings guides.
Optional for mobile end stop :
BASE :
End stop positioner;
Numerical keyboard with quick select for frequent memories;
Distance between end stop and blade display.
Technical features :
Linck brand;
Min. cutting length 1 m.;
Max. cutting length 6 m.;
Max. cutting height mm
Min. cutting width 24 mm;
Max. cutting width 350 mm;
Sawblade diameter 530 mm;
Feed speed 50/150 m/min;
Weight 8500 kg.